fooclick.com provides you to select a suitable product it's an affiliated leading platform. Our blogs help you the right product, especially for the body, skin, and hair. Bellafeme.com is a complete beauty solution. It is very important before using any product to determine your hair type suitable for your hair.
1) Texture of Hair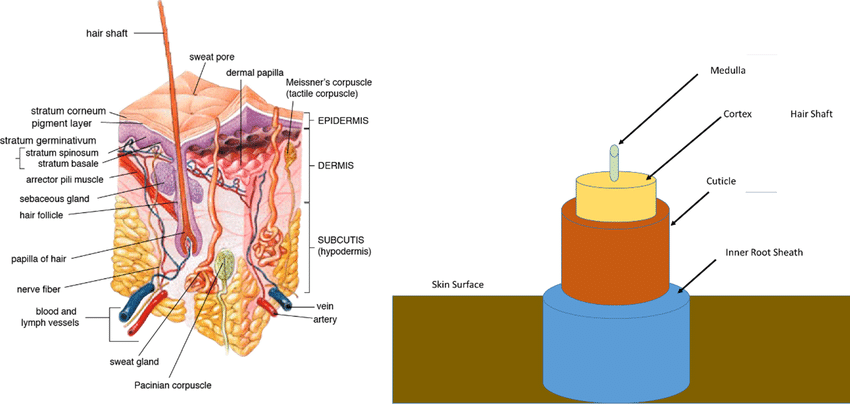 To find out the texture of your hair just run your fingers from tip to root of the strand 5 to 6 times, it is not necessary to be an expert or to have four years degree. Wash your hair to remove all products from your hair then you can start the test. How thick or thin the individual strand is.
There are three categories:-
Fine:- The hairstyle from fine hair often does not hold well. Use strong spray.
Medium:- Well, medium hair is the best, because the hairstyle holds well and the hair is also easy to style.
Thick:- Thick hair holds very well, but can often be difficult to style as it's typically less supple.
Check-up
Compare your hair strand with sewing thread. If your hair appears thinner than the sewing thread, your hair is fine, while if it seems thicker, it's likely thick, and medium hair is the best because the hairstyle it don't change shape, texture, and pattern and the hair is also easy to style.
Fine Hair
Fine hair is sensitive.
Diameter 0.06mm/
Damage quickly in high temperatures,
Without volume, limp and greasy.
Right product ( before you use anything consult with consultants )
The right shampoo for fine hair, weightless conditioner, and mask. Avoid creamy and rich consistencies, which can weigh down the hair too.
The clear, gel texture is better for your hair.
The product with ingredients such as cellulose, various proteins (wheat, rice), and polymers that support the fullness and strength of hair apply caring products (conditioner, treatment) only containing Dimethicone or Behentrimonium Methosulfate, which are too heavy, and your hair would be greasy immediately.
Use the light product to make it firm. volumizing foams, volume sprays, or volume powders.
Tip :-Care gently
Brand Name: Cynos
Model Number: C-ZW
Type: Cream
Gender: Unisex
Form: Gel, Cream, Wax, Mud, Spray
Feature:
Adds texture and natural bounce
Non overburdening
Soft touchable curls
Use Guide
Apply a small amount to damp hair. Work into the curls. Style as desired.
Medium/Normal Hair
Normal hair is neither greasy nor dry, it is naturally shiny, and supple.
Diameter with a thickness of about 0.07 mm.
Right Product
Shampoo 2 in 1 with conditioner.
Tips:- It is not necessary to take care of this type of hair with special cosmetics
Hair Loss Control Shampoo
Feature
Promotes Hair Growth
Improves Thinning Hair
Description
Our formula with ginger essential oil is very effective to restore poor blood circulation in the scalp, it has excellent analgesic and antibacterial properties, which helps to improve hair growth. Coordinate with argan essence oil that organic extracts and essential nutrients nourish hair follicles, reversing damage and promoting cell growth.
Use Guide
Distribute evenly through wet hair. Massage gently to lather. Rinse with warm water. Repeat if necessary.
Thick Hair
It looks thick and voluminous, with heavy texture frizz, and water doesn't retain.
Diameter 0.08.
It doesn't break damage at high temperatures.
Right Product
To hydrate strands moisturizing products like hydrating shampoos.
Nourishing conditioners and masks with a rich texture, eg containing cocoa or butter due to their high content of fatty acids.
Tips:- Avoid only products with high water content in the first place in formulas.
Conditioner for Damaged Hair Treatment Size Hydrating
General information
There are several ways to analyze hair type:-
Texture
Density
Porosity
Elasticity
Hair pattern It has three things in it
1. Texture
When we talk about the texture of hair, we mean the shape – whether it is straight, wavy, or curly. Straight hair doesn't need special care, so we'll focus mainly on curly and wavy hair that requires more attention. This type of hair is usually coarse, dry, frizzy, porous, and without shine.
Suitable care: In general, curly hair lacks mainly hydration and nutrition. Wash hair with a special shampoo for curly and wavy hair. Perfect is also shampoo for dry hair. Don't forget the conditioners for curly and wavy hair and the hair mask for curly and wavy hair. Curly hair is also often frizzy, so smoothing/anti-frizz products will also be suitable. When caring for curly or wavy hair, it is also good to realize whether you want to support or straighten your curls. To support the shape of curls, you can use many styling products to curl definition.
Wavy and Curly hair is nothing just a bend c shape when we cut it into layers the gets released and it jumps back into its original shape. Note one thing for curly and wavy you should know the light doesn't reflect both these texture appears to be dry but they may not be necessarily dry.
2. Density
Means on your head per square inch.
Straight hair with fine density will have a problem with no volume.
Curly hair with thick density has a problem managing its hair.
Hair test per square inch:-
Lots of hair mean high density. Another way is to make a ponytail how thick your hair is. Hair texture is nothing but the thickness of each strand of your hair texture can be fine medium and thick. Thick is strong it will take time to process.
3. Porosity
Porosity means the ability of hair to absorb moisture or product.
For the porosity, test to make sure your hair is a clean product not blow dry because of the heat up the hair. Take a bottle of water and spray your hair 6 to 8 inches away. how the water reacts to your hair. If the water absorbs into your hair and throws out that hair is very very poor problematic has to be very very careful.
Then there is wel hair which feels very rubber spongy it feels good and when it gets dry hay like on straw is a sign of porosity one has to be careful to put chemical serves on it. If the water stays on and is slightly down …then that means you have low porosity it's not as problematic when you do chemical service coloring the will be slight resistance.
If the water stays on and goes into the head it means your porosity of hair is good
Check
Take a strand of hair and put it into a bowl:-
If the hair sinks to the bottom, high porosity because it absorbs all the moisture.
If the float on top of the water, low porosity doesn't moisture easily.
If the water float in the middle of the water, normal porosity will balance the hair.
4. Elasticity
Check
Just make one strand of your hair stretch it jump back to normal then its good elasticity. Stretch it and stretch with light hands if it doesn't come back then it's weak hair go to the consultants.
Hair products
Having problems comes when you have straight hair fine density and fine texture where you face problems with limp there then you have to use volume products.
Volume shampoo will clean your hair quite nicely and thoroughly and gives volume to the root you can use leavin conditioner is different from rinse south conditioner leavin condition is water base and they don't wear down and rinse south condition.
Normal hair:-
You have colored it and use this protecting conditioner with no problem with wavy and curly hair density thick medium and texture thick medium.
The problem when you needed volume in your hair you make sure you use shampoo and conditioner for colored hair Or if you have straight wavy curly hair it does matter make sure you buy the moisturizing shampoo mentioned normally to dry hair.
Curly and wavy hair with medium or thick density or texture medium or thick you have a problem with manageable product nourishing shampoo conditioning go for home treatment and go saloon once a month.
If you buy the product for curly and wavy hair extra monitoring or nourishing or hydrating
Note:- if your hair is weak don't do it at home any protein is missing and you require protein-strengthening treatment do it at the saloon. Styling products go for serum oil cream or leave-in conditioner great value-added product nourishing product. Porosity problem advise staying away
3. Chemically dry and damaged hair
Advise no chemicals no color stay from heated dryer let your hair breathe it needs to relax if you have grey hair don't buy product protein based strengthening process
Limp hair go for a product that is volume based
KC keratin hair treatment
Type: hair treatment cream
Application: For Home Use
Ingredient: keratin, Hydrolyzed keratin hair treatment
Feature: hair straightening, Shinny / smoothing hair keratin treatment
Specification: 1000ml
Categories
Popular Posts